Browsing articles in "Engagement Rings"
Proposing to the woman of your dreams can be exciting and terrifying all at the same time. From choosing the perfect date and location to figuring out what you're going to say, and most importantly what diamond your going to buy, you may feel like you're already planning the wedding. Engagement rings come in many shapes, sizes, styles and colors. Since she'll be wearing this piece of jewelry for the rest of her life, finding the right ring to fit her style and personality is critical.
Since diamonds are our specialty at J.R. Dunn, we've compiled a list of our most popular engagement ring styles to help you get a better idea of what she may want.
1. If she a vintage lover, Simon G Passion Halo creates the perfect mix of 18k white gold and 18k rose gold plus a twisted diamond band that would be perfect for her.  
2. Floral and timeless, this 18k white gold bezel set halo engagement ring and diamond band will compliment her center stone.
3. Tacori almost always makes our list! This platinum channel set Dantela halo large pave setting is even more gorgeous in person.
4. Make sure she's sitting down when you propose to her with this Forevermark 'The Center of My Universe' white gold diamond ring fitted with 1.72tw diamonds surrounding the center stone.
5.  If she loves rose gold, this may be the winner. Pretty and pink, this Tacori 18k rose gold pave criss-cross diamond engagement setting is sure to be a showstopper.
The engagement ring you chose is something she'll wear for the rest of her life. Find a ring that embodies her personality and style. Maybe she's understated, over the top, modern or vintage.  If you're looking for a custom ring, give us a call at 866-362-5787. We'd would love to design your dream ring.
You've found someone you want to spend the rest of your life with and you need to know the right place to buy an engagement ring in South Florida – I'm not talking about any old ring , I'm talking about the one that will make her heart flutter! We know you're excited and also a little bit nervous too. This is the first time you have bought a diamond engagement ring before. So what are you gonna need to know in order to make an intelligent purchase?
If you are looking for a stylish and unique engagement ring that you won't see coming and going you should check out the Cento Collection from Roberto Coin. These Roberto Coin diamond rings range in style from big and bold to clean and simple. My personal favorite happens to be the C profile engagement ring that does a magnificent job keeping the focus on the center diamond. And who wouldn't want to do that when the diamond that symbolizes your life long commitment is a Cento Diamond. The name Cento means "one hundred" in Italian and that is the amount of facets that these specially cut diamonds have. The result is a diamond that exhibits an unbelievable amount of fire and brilliance. And like the rest of his fine jewelry collection, Roberto Coin diamond rings feature the signature ruby set inside each ring. According to ancient lore a ruby, when worn close to the skin, gives the wearer peace and a long life filled happiness.
Yes I know that I misspelled engagement ring in the title as engagment ring. I just keep missing that "e" over and over again when I write a blog about the subject. Since I keep making this mistake I figured there must be many others out there doing the same. And rather than have you end up on somebody else's website looking for your engagment ring I figured why not mine!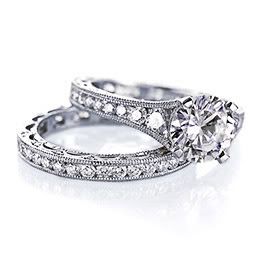 So before you hit the back button, I probably should let you know two things:
#1. We would love to be your jeweler!
#2. We actually are a serious online and brick and mortar retailer that has been in the business for nearly forty years.
We carry a huge online selection of all types of engagement rings from all of the big name designers like Tacori, Scott Kay, Ritani, Simon G and many more at JRDunn.com And for those of you looking for a totally unique engagement ring check out our very own Debeer's award winning designer Robert Pellccia.We also have a huge inventory certified diamonds listed at very competitive prices on our loose diamonds.
With so many choice out there you may ask "Why buy your diamond from J.R.Dunn?"
What separates us from the competition online is that once you select a couple of diamonds you are interested in, we will have them sent in and we will call you to discuss the visual appearance of each diamond. Our sales team and gemologists want to make certain your diamond will meet or exceed your expectations before we ship it out to you. Best of all we offer this visual verification service at no extra charge!
Anyways here is to engagment rings and getting to know you :)!
Warm regards,
Sean
Technorati Tags:
[tag-tec]Engagment Rings[/tag-tec]
If you are interested in having a spectacular engagement ring inspired by nature you owe it to yourself to check out the Calla Collection from Nelson. This gorgeous collection of engagement rings was inspired by the sight of butterflies fluttering above a field of Calla Lily flowers. The creator of this unique engagement ring collection, Nelson Ho, had a diamond specifically cut to capture the shape of the Calla Lilly flower. When four of these Calla Cut diamonds are set together in a ring they form delicate butterfly shape and that's when the nature inspired engagement rings spring to life!
Let us be the first (or one of the first) to say congratulations! You know he is going to pop the question and now it's time to give him a few subtle hints of what styles you might like. One of the easiest ways to do this is to go out and buy one of the many bridal magazines that are available at you local news stand. Once you start browsing the pages you'll see a ton of designer engagement rings from many different companies like Tacori, Simon G and Ritani just to name a few. Speaking of Tacori, did you know that is the company that has designed many celebrities rings? Anyway so once you find a ring in the magazines that you like you can rip the page out and leave it laying around if you want him to "get the hint" or just show it to him. He'll appreciate this because it is going to make his life a whole lot easier!
Thank the good Lord that my family and I were fortunate enough (or smart enough) to hire a a great crew of fashion forward professional ladies about a decade ago! Every season they have managed to keep J.R.Dunn Jewelers on top of it's game when it comes to fashion and jewelry trends. Some trends are red hot one minute and forgotten the next so you have to be quick, but fortunately this isn't the case when it comes to bridal jewelry. Bridal jewelry trends have a much longer lifespan and change more gradually.
Do you know exactly what you want in an engagement ring but haven't seen it anywhere? – Unique engagement rings are a huge passion for us here at J.R.Dunn Jewelers. We are one of a handful of jewelers in the country who are actually able to design and manufacture platinum engagement rings from scratch right on our premises. Our studio team headed by award winning designer Robert Pelliccia utilize artistic ability, state of the art technology and old world craftsmanship to create the ring of your dreams.
How does creating the ring of your dreams work?
It all starts out with a beautifully rendered sketch to bring your ideas to life. The next step is to recreate the sketch in 3 dimensions on our sophisticated CAD software program. We then export the CAD file to our RTM machine which creates a wax model of your uniquely designed engagement ring with unmatched precision. If the model passes our strict quality control standards we then proceed to create the ring using lost wax casting methods. Once we have the rough casting, the engagement ring is hand polished, assembled and last but certainly not least the diamonds are carefully set by our artisans.
We look forward to making your dreams become a reality at with a spectacular engagement ring setting at JRDunn.com.