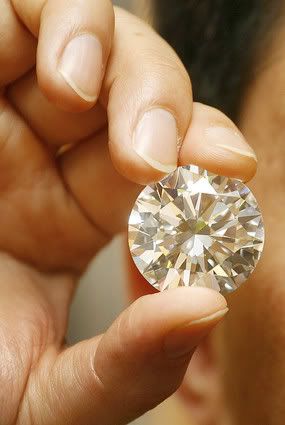 The largest top quality diamond that Sotheby's has ever had up for auction is causing quite a stir! The diamond is a round brilliant cut weighing 84.37 carats and is the highest color D and is Internally Flawless. In addition, cut, polish and symmetry have all been graded as Excellent! The diamond is being auctioned off in Geneva next month and is expected to go for $12 million up to $16 million! According to Fort Lauderdales' Sun-Sentinel the diamond will be on display in Hong Kong, Paris, New York, Rome, Los Angeles, London, Dubai and Bahrain before the auction on November 12th.
But in reality guys….what do you think will happen to this diamond? Good luck in finding a match for that fabulous diamond stud earring set you always wanted. The ring thing just won't work…talk about a headlight!
And, I cant' really see it as a necklace….just too big. So short of ending up in some museum, our best guess is some wealthy guy is going to buy it and just show it off to all his rich buddies.
If this was MY diamond I would have it set in a tiara so I could wear it all day long without getting hurt!
Tell me what you would do with this diamond if it was yours!
Rebecca
Technorati tags:
[tag-tec]diamonds[/tag-tec],[tag-tec]sothebys[/tag-tec], [tag-tec]jrdunn[/tag-tec], [tag-tec]fashion jewelry blog[/tag-tec]