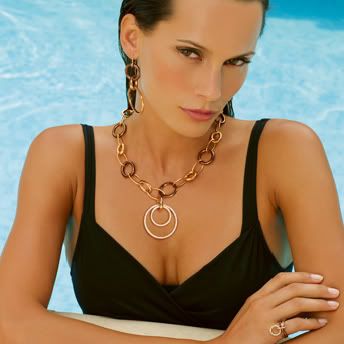 67 day till Christmas and Mattioli's Cacao Collection necklace is a perfect gift that any woman would love to find under her Christmas tree! This necklace is gorgeous with 18k rose and CHOCOLATE gold links. Gold and chocolate….you cannot give a woman anything better! Except maybe diamonds! The clasp on this necklace is a hidden clasp…meaning it looks just like any of the other links.
That means you can clip it anywhere! Wear it like this picture or clip it closer to the neck for a lariat look. The pendant comes separate from the necklace and features an opening bail so you can clip it anywhere! Make the look all your own!
So to see all the beautiful Mattioli jewelry or to find out more about this Italian designer log onto JRDunn.com!
Happy Shopping!
Rebecca
[ratings]
Technorati tags: [tag-tec]mattioli jewelry[/tag-tec], [tag-tec]holiday gifts[/tag-tec], [tag-tec]fashion jewelry blog[/tag-tec], [tag-tec]italian jewelry[/tag-tec]