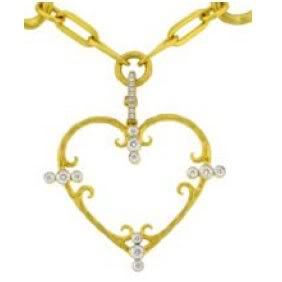 Rhonda Faber Green's 22kt diamond & citrine reversible heart pendant is our Hot Holiday Pick today. This charming piece is available in yellow or white gold and has a bail that opens so you can place it on any necklace or chain you wish. This pendant is reversible, there are .33 carat in total of white diamonds set on one side, and both sides of the bail, and citrines set on the opposite side weighing .34 carat in total, making this heart a must have for any woman's jewelry wardrobe.
Rhonda Faber Green is a new up and coming designer whose collections range from victorian filigree work to ethnic rich 22kt yellow gold pieces, always wonderfully feminine!
To learn more about fabulous Rhonda Faber Green shop now at JRDunn.com!
Happy holiday shopping!
Rebecca
[ratings]
Technorati tags: [tag-tec]rhonda faber green[/tag-tec], [tag-tec]holiday gifts[/tag-tec], [tag-tec]celebrity jewelry[/tag-tec], [tag-tec]jrdunn.com[/tag-tec], [tag-tec]fashion jewelry blog[/tag-tec]